Landmark bill turns back the DeVos privatization agenda and the culture of over-testing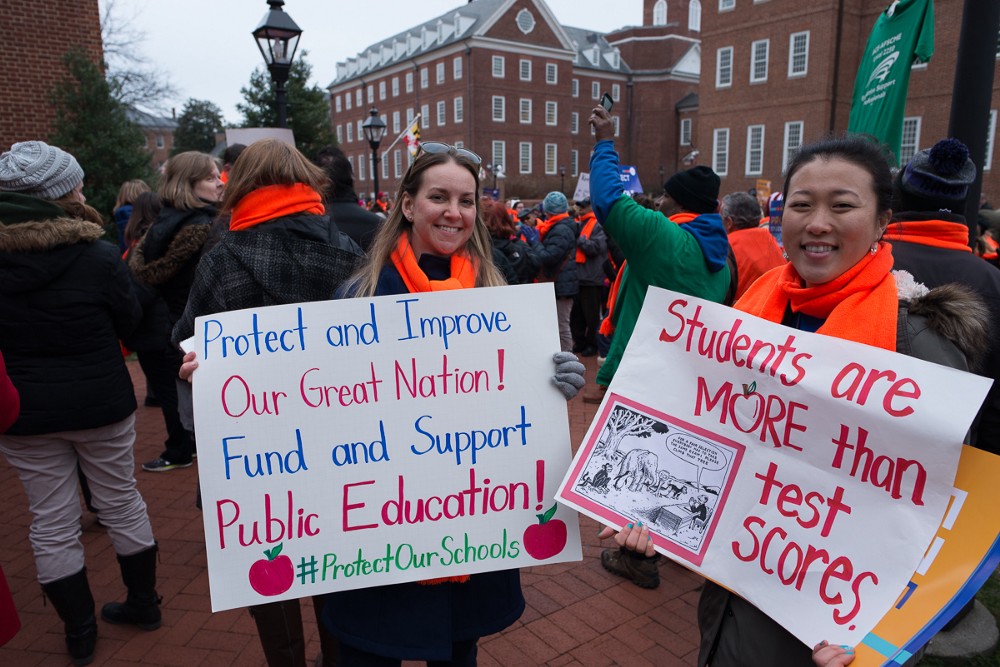 Educators, students, and public schools scored several big wins this legislative session. This week on Newsfeed, we'll look at three of the biggest wins and what they mean for Maryland schools. First up: the landmark Protect Our Schools Act.
This session — thanks to the work of legislators and the advocacy of educators — Maryland became a national leader in standing up to the Betsy DeVos school privatization agenda and in turning the page on the damaging test-and-punish culture in favor of one that truly invests in and improves our schools.
The Protect Our Schools Act accomplishes this by doing three big things:
It prevents the DeVos privatization agenda from gaining a foothold in Maryland. It stops the state from using federal Title I funding dedicated to high-poverty schools for private school vouchers, forcing public schools to be converted to charter schools, or taking over public schools and handing them over to private operators.
It ensures that far more than standardized test scores are used to evaluate school success. Under federal law, state accountability plans must now incorporate both academic indicators — like test scores or graduation rates — and school quality indicators — like a supportive school climate or access to teachers with advanced certification. Federal law requires states to give academic indicators more weight than school quality indicators, but it doesn't say how much more. The Protect Our Schools Act takes advantage of this long overdue opportunity to finally focus on more than just test scores, striking a balance of 65% academic indicators and 35% school quality indicators.
It requires the inclusion of educators and parents when developing school support and improvement plans. Under federal law, a certain number of schools will be identified as low-performing based on a state's accountability system. By requiring school-level stakeholders to be involved in school turnaround decisions, it's much more likely that school changes will revolve around the unique needs of a school and community rather than top-down, one-size-fits all solutions that too often don't work.
Win Driven by Educator Activism and Coalition Effort
Educators and education advocates were fired up about stopping the DeVos agenda and rolling back the overwhelming focus on test scores — and it showed. Educators sent about 50,000 emails to legislators in support of this bill. They also made 4,000 phone calls and mailed 1,500 letters to their representatives.
But educators were far from the only ones fighting for the bill. Other groups supporting it included the NAACP — Maryland State Conference, Maryland PTA, Parent Advocacy Consortium, CASA de Maryland, Disability Rights Maryland, ACLU of Maryland, AFT-Maryland, Advocates for Children and Youth, School Social Workers in Maryland, League of Women Voters, Arts Education in Maryland Schools Alliance, Attendance Works, Maryland Coalition for Community Schools, and Maryland Out of School Time Network.
And initially, the Protect Our Schools Act was supported by legislators of both parties — passing out of the Education Subcommittee of the House Ways and Means Committee on a bipartisan 19–3 vote on March 6.
But after that vote, Gov. Hogan made a political decision to oppose the bill because it blocked his ability to privatize schools and redirect federal funding meant for high-poverty schools to vouchers. Afterwards, the bill faced largely party-line votes through both chambers until it was ultimately passed and sent to the governor on March 28.
A week later, Gov. Hogan went to a Baltimore charter school to veto the bill after delivering remarks peppered with false and misleading claims about it (some of which had been fact-checked by members of his own party).
Before the ink was dry on his veto, supporters of the Protect Our Schools Act sprang into action. Educators alone sent more than 5,000 emails to legislators in the 24 hours following his veto, and educators, advocates, and legislators came together for a press conference the next morning promising to override the governor's veto.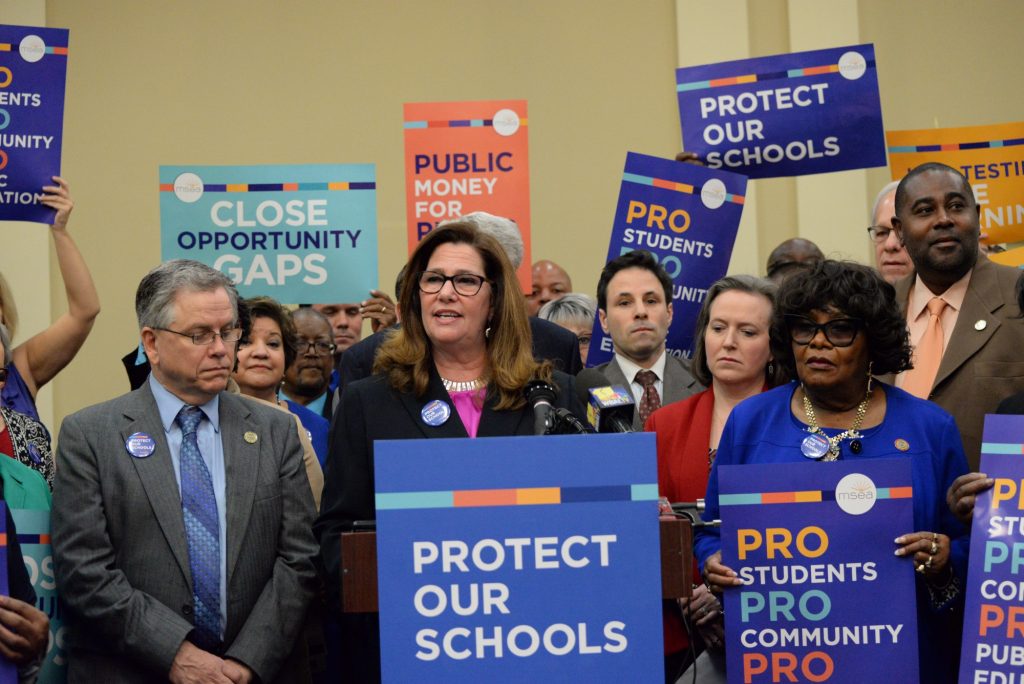 And later that day, they did. The House voted 90–50 to override, followed a couple hours later by a 32–15 Senate vote to do the same. In less than 24 hours, Gov. Hogan's obstructionism had failed and the Protect Our Schools Act was officially state law.
Public schools supporters celebrated, while Gov. Hogan spent the evening telling constituents who disagreed with him on Facebook that they were confused.
What's Next?
Now, Maryland is leading the way on pushing back against the DeVos privatization agenda and on re-centering education policy around students rather than test scores. That's worth celebrating.
And Maryland's work is getting noticed. "Congratulations to the educators and parents and students of Maryland for defeating Governor Hogan's effort to impose the DeVos agenda on the state's public schools," wrote education scholar Diane Ravitch the day after the override vote.
But our state's new school accountability system isn't set in stone yet. While the General Assembly made major progress in positioning Maryland to have the strongest, smartest, and most transparent accountability system in the nation, the State Department of Education and State Board of Education still have real influence over many of the details of the plan.
The State Department will release its revised draft of the state's draft plan in the next month or so. A period of public comment will follow, and then the state will revise its plan before the State Board approves it in August and it is submitted to the U.S. Department of Education in September.
We'll need to stay vigilant to make sure that the state's ultimate plan follows through on the strong, student-centered approach envisioned by the Protect Our Schools Act. Today, it's time to celebrate a big win. And then — stay tuned!