And other legislative updates in this week's Up the Street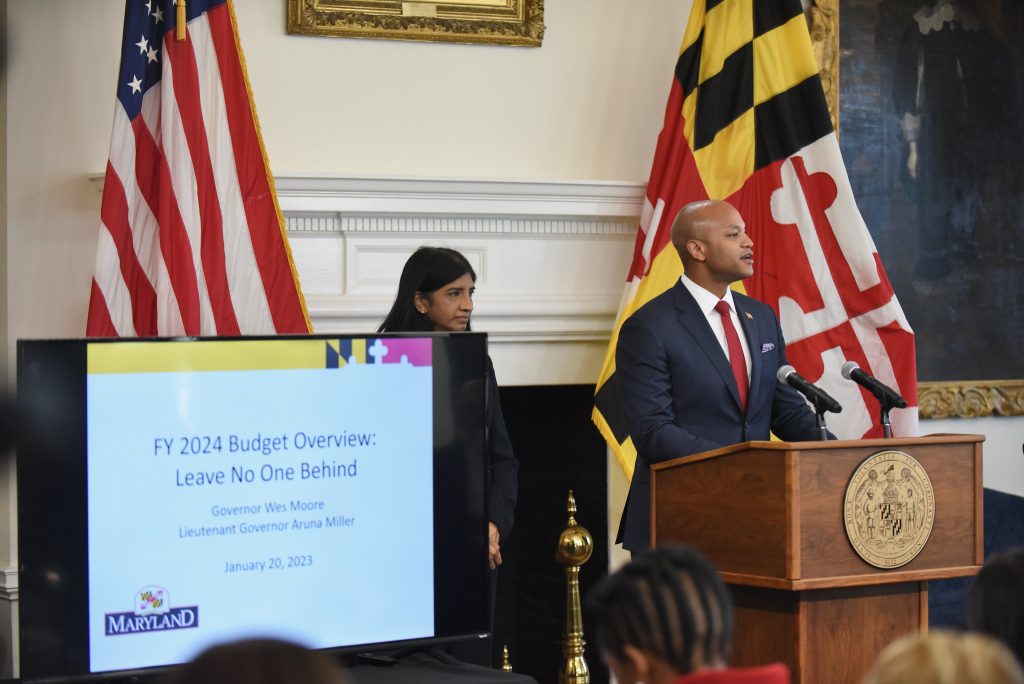 Senate Bill 181/House Bill 200, Governor Moore's proposed budget for fiscal year 2024, states that "education is central to fighting poverty and powering the Maryland economy." Accordingly, he commits record levels of funding to both the operating budget for school programs and capital budget for brick-and-mortar projects. Following through on his commitment to address the educator shortage, he carves out $15 million for a yet to be introduced educator recruitment bill, and he dedicates $22 million to pay education support professionals the $1,000 in bonuses that they are owed, which former Gov. Hogan didn't fully fund.
At $8.8 billion, Moore's K-12 program funding grows 10% or $740 million over FY23 funding levels. He also allocates $1.1 billion for school construction. Among the ways that Moore's budget exceeds minimum requirements for pre-k through high school:
Funding to support low-income students grows $475 million (32%) over FY23. This includes $84 million in additional grant funding to expand wraparound services in schools with high concentrations of poverty.
Grants for students learning English increase by $48 million (11%)
Formula funding for students with disabilities grows by $63 million (16%) over FY23
$500 million to the Blueprint for Maryland's Future Fund to extend the fund's solvency
$51 million for supplemental instruction for struggling learners, an increase of $1.3 million over FY23
$9.5 million for the career ladder for educators established by the Blueprint for Maryland's Future
$20 million in general funds for the revolving loan fund for local governments' share of school construction projects
$1 million increase to the Maryland Center for School Safety for grants to address and prevent hate crimes at public and nonpublic schools, daycare facilities, and early childhood centers, for total funding of $3 million in FY24
Moore's budget makes a number of notable investments in early childhood education, an area that he has spoken about at length on the campaign trail and as governor. These investments include:
Expanding access to early childhood education programs, including $99.6 million to support full-day pre-kindergarten for low-income four-year-olds and three-year-olds in the state
$10 million in additional state funding for the Child Care Scholarship Program, bringing total general fund support to a record $68.5 million
$5.5 million in state funding for Patty Centers, also known as Family Support Centers, which provide families with at-risk children from birth to three years of age with training and support
Increasing state funding for Judy Centers by $3 million, to a total $28 million in FY24. The Centers provide comprehensive, integrated, full-day and full-year early care and education services to families with the greatest needs.
And in higher education, Moore's budget also makes record level investments of $393.3 million in the state's 15 local community colleges, an 18.5% increase in state support per attending student.
Hearing on Wednesday for House Bill 85/Senate Bill 206, Educator Voice on Class Size
On Wednesday at 1 p.m. the House Ways and Means Committee will take up House Bill 85, which would make class size no longer an illegal subject of collective bargaining. Majority Whip Del. Jazz Lewis (D-Prince George's) is reintroducing this legislation, which MSEA fought for last year, and Sen. Pam Beidle (D-Anne Arundel) has introduced the Senate cross-file of the bill, SB206. Maryland is currently one of only nine states where educators are not allowed to discuss class size at the bargaining table. The passage of this bill would help educators develop collaborative solutions to ensure that students have the individual attention they need. This is one of MSEA's top legislative priorities.
Legislative Black Caucus Includes Educator Recruitment Goals as Priority
The Legislative Black Caucus announced their priorities for this session, which include improving the recruitment of diverse educators that better represent the student body in Maryland schools, which is also a core value in the Blueprint for Maryland's Future.
NEWS AND NOTES

Gov. Moore to Join MSEA for Facebook Live Discussion
On Wednesday, February 1, at 7:30 p.m., Gov. Moore will join MSEA President Cheryl Bost live online to discuss his education plans, how his budget will impact students and educators, and more. He plans to join the special live event for 30 minutes, from 7:30-8 p.m.
Following Moore, from 8-8:30 p.m. President Bost and MSEA Chief Lobbyist Samantha Zwerling will discuss some of the legislation that MSEA is closely monitoring and advocating for or against in alignment with this year's legislative priorities. A Facebook account is not required to join the event next Wednesday. Just click here to go to the MSEA Facebook page to watch online.
Legislative Shuffling Following Administration Appointments Sees Del. Alonzo Washington Nominated for Senate
On January 21, the Prince George's Democratic Central Committee nominated House Ways and Means Committee Vice Chair Del. Alonzo Washington (D-Prince George's) to fill the Senate seat vacated by former Sen. Paul Pinsky (D-Prince George's), who joined the Moore-Miller Administration as director of the Maryland Energy Administration. Washington was recommended by MSEA and the Prince George's County Educators' Association for the nomination; Gov. Moore now has 15 days to approve it. If approved, the Central Committee will nominate a person to fill Washington's seat., House Speaker Adrienne Jones (D-Baltimore County) will need to select a new vice chair for the Ways and Means Committee and a new chair for its Education Subcommittee, as Washington has been serving in both capacities.
Senate to Take up Gubernatorial Appointments
Moore withdrew from consideration the names of 48 nominees to state boards and commissions that former Gov. Hogan made during the legislative recess, which were up for consideration during this legislative session for Senate approval. Among the names rescinded by Moore was one nominee for re-appointment to the State Board of Education, Vermelle Greene. Greene dabbled in fringe talking points against transgender student equity and Black Lives Matter, among other issues, during her time on the board. On Monday, the Senate Executive Nominations Committee will begin considering nominations, starting with Hogan's recess appointments to district courts. Moore will submit names for appointment to various boards and commissions next month.
Cardona Calls on Nation's School Districts to Respect Educators with Higher Pay
U.S. Secretary of Education Miguel Cardona admonished the nation to pay its educators better in a discussion of the educator shortage crisis. "Have we as a country minimized the profession so much that we're OK with teachers driving Ubers and getting second or third jobs on the weekend to earn enough money to pay the bills?" he said. "I'm not OK with that." Among improvements being considered are a bill in Congress to enable all starting teachers to get a starting salary of at least $60,000, which is what MSEA fought for successfully in the Blueprint for Maryland's Future, increased Title I funding to lower student-to-staff ratios, and grow-your-own educator programs, which are also present in Maryland.
Public Comment Phase Opens for Changes to Educator Preparation, Licensure Regulations
On January 24 the State Board of Education voted to publish for public comment new regulations to repeal and replace the regulations governing educator preparation and licensure, (COMAR) 13A.12.01.-.07 Educator Licensure, and 13A.07.06, Programs for Professionally Licensed Personnel. MSEA has consistently weighed in to fight for the support of high quality and diverse educators and for alignment with the Blueprint's expectations and goals.