And other legislative updates in this week's Up the Street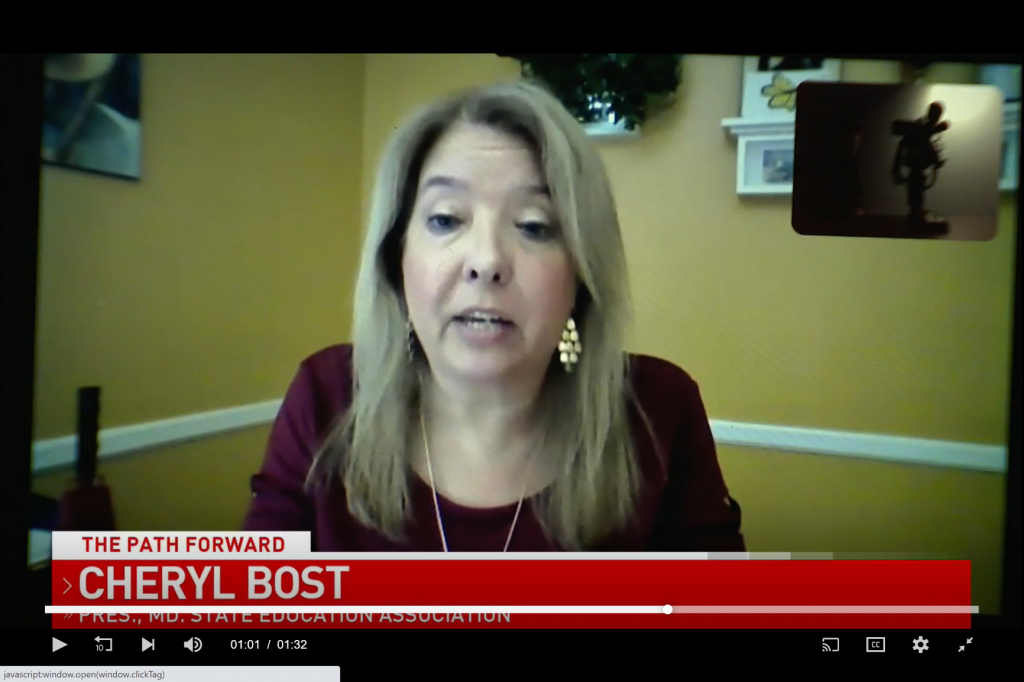 THIS WEEK IN ANNAPOLIS
MSEA, Legislators Seek More Funding for Education Recovery as Hogan Budget Gets Further Scrutiny
As legislators focus on the path to recovery from the pandemic, this week Senate Democrats proposed adding $520 million to Hogan's $1 billion RELIEF Act, which is separate from the governor's $49 billion budget bill. The Senate plan includes money for summer school or tutoring for 8 weeks for 25,000 students, rental and mortgage relief, $1,000 payments to low-income earners, support for food banks and other aid providers, and more.
As was announced last week, the governor's budget included $7.5 billion for education, the vast majority of which is dictated by funding formulas and previously passed legislation. He used $752 million from the Blueprint for Maryland's Future Fund to address some of the pandemic impacts that overlap with Blueprint goals, such as expanding tutoring and early childhood education. Summer school programs, more educators, and trauma-informed staff will be needed given the pandemic's profound effect on our communities, particularly among those living in poverty and who more frequently experience economic loss and trauma.
Overriding the veto of the Blueprint remains MSEA's top priority. Ironically, Hogan vetoed the very legislation that would have addressed many of the needs he identified in his budget. His short-sighted action last year stalled the Blueprint's once-in-a-generation education reform to ramp up support to struggling learners, hire more educators and increase their pay, and expand pre-kindergarten and career and technical education. The veto simultaneously stopped a $2.2 billion investment in new school construction and renovations to bring classrooms into the 21st century. That investment, which a Blueprint veto override will restore, will go a long way to ensuring that we have safe and healthy schools across the state.
Hogan's budget also proposes to use the Blueprint Fund to make up for the artificially low student enrollment count from September 2020. The enrollment drop, which education advocates and budget experts see as a one-time aberration due to the pandemic, would have reduced state aid by nearly a quarter billion less than in FY21. The governor's budget includes just over $213 million in what his office describes as "hold harmless" funds. For counties to receive that higher per-pupil formula they will have to come up with local increases to maintain their maintenance of effort funding. We continue to study whether that funding is adequate to address both the artificial enrollment count and the impact on at-promise populations that require additional resources, such as students on free and reduced-price meals and students receiving special education services. Returning to "normal" in the school system is not an acceptable position; we must advocate for transformational change for our schools.
MSEA Pushes for Safe Reopening, Collaboration; Superintendent, Governor Threaten Educators
As the vaccine roll-out to educators (and Marylanders more broadly) remains stuck in low gear, legislators, editorial writers, and MSEA are raising concerns about Gov. Hogan's sudden demand that all schools return to some kind of in-person teaching by March 1. This week MSEA President Cheryl Bost reiterated MSEA's call for collaboration from Superintendent Karen Salmon and Hogan to safely and sustainably reopen school buildings for in-person teaching, despite the governor's disrespectful comments on January 21, when he threatened educators' pay and licenses and said schools must start in-person teaching by March 1.
Through it all, educators continue to deliver the best instructional experience possible under the circumstances, including many districts already meeting the demand of in-person instruction for some students. In support of safe in-person instruction, MSEA created a Health and Safety Checklist for Buildings and Workspaces for members to use as they work with their community and colleagues to establish the readiness of buildings for safe in-person instruction. The risks of recklessly returning to in-person education are real, as more evidence is indicating.
Dozens of local and national media outlets, but not the governor or superintendent, invited Bost to discuss educators' desires to return to schools safely and sustainably and the need to meet the health standards set by state and local health officials and the Centers for Disease Control and Prevention. At the same time, in a series of twisted mixed messages, Hogan said the development of the vaccine makes return to school safer and that availability of vaccine should have no bearing on in-person instruction; assured educators that they could be vaccinated and admitted that there is not enough vaccine to do so; praised educators for herculean work during the pandemic and threatened their pay and jobs; and, most recently, promised this week to open "mass vaccination" sites and said there is not enough vaccine available for those sites to function.
Equity Drives Support from State and Federal Officials
During MSEA's January 27 "Educate at 8" Facebook live Q&A, U.S. Congressman Anthony Brown and State House Majority Leader Eric Luedtke joined MSEA President Bost and MSEA General Counsel Kristy Anderson to offer their support of public education in general and the Blueprint in particular. Luedtke, a former public school teacher, said overriding the Blueprint veto is a priority to address the social and economic injustice in education that was present before, and exacerbated by, the pandemic. A vote on the override is expected to occur sometime on or after February 8, and legislators need to hear from the public how important the Blueprint is to recovering from the pandemic and transforming our schools. Find out how to do your part to support the Blueprint here.
Supporting MSEA's push for safe schools, Brown said the override "is a case of equity and justice." He explained that federal support for the Blueprint is found in the True Equity Act, sponsored by members of Maryland's Congressional delegation. Brown said as much as a third of the funding for the Blueprint could come with the True Equity Act, which supports transformational education programs that align with recommendations from the Kirwan Commission. On reopening, he added that "Educators should be listened to as reopening plans are developed, not scapegoated or threatened. Educators have worked hard throughout this pandemic—many are in the classroom notwithstanding the risk and so many have made the pivot to distance learning. They do that to give students a quality education. Governor Hogan and our state superintendent have unfairly and inaccurately painted educators as opponents and hostile, when [they] are heroes on the frontlines getting it done."
NEWS AND NOTES
Some High-Stakes Testing Going Away; MSDE Pushes Certification Changes
This week the State Board of Education adopted the recommendations MSEA supported from the graduation task force to decouple assessments in Algebra 1, English 10, Life Science, and Government from graduation requirements starting in the 2022-2023 school year. At that point, students will have to pass the courses to graduate and the end-of-course tests will count as 20% of the final grade. In the 2020-2021 and 2021-2022 school years students will be required to take, yet not pass, the assessments for those courses.   The Maryland Comprehensive Assessment Program (MCAP) that officially replaces PARCC this year is still scheduled, but it has not undergone the usual standard setting. MSEA will continue to advocate for the state to request a waiver for this and the Maryland Integrated Science Assessments, provided USDE creates such a process.
Salmon, whose retirement is months away, pushed to continue the untimely process of educator certification changes even though such changes would not be necessary once the Blueprint, with its career ladder, is enacted. We will be watching closely as the timing of final publication and adoption of the regulations may come close to the date of the override vote and enactment of the Blueprint.
CAMPAIGN 2022
Two New Candidates Join 2022 Races
On Wednesday, one-time Montgomery County Council candidate and former member of the Obama Administration Ashwani Jain entered the still-forming field of Democratic gubernatorial candidates. On Thursday, former delegate and 2014 gubernatorial candidate Heather Mizeur announced that she would challenge Rep. Andy Harris to represent the First Congressional District. Harris' exploits during this month alone include attempting to fight former NFL player Rep. Colin Allred on the floor of the House, getting caught trying to bring a gun through a Congressional metal detector, and evoking widespread condemnation for his behavior surrounding the Capitol insurrection from across the political spectrum.