And other legislative updates in this week's Up the Street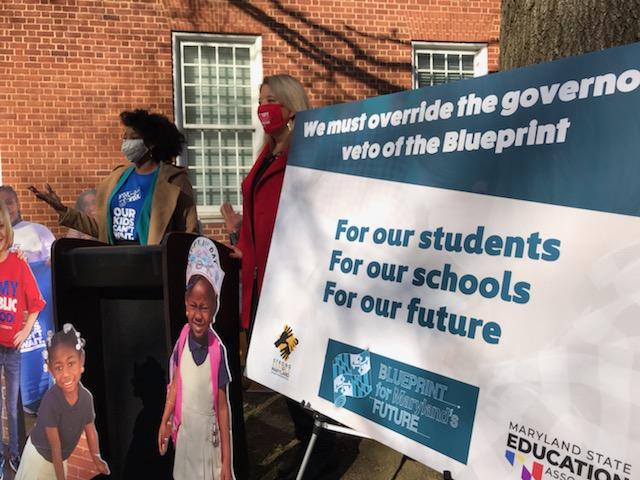 THIS WEEK IN ANNAPOLIS
"Unprecedented" Experience Carries Over from 2020 to 2021 General Assembly
A week after the inconceivable attack on the U.S. Capitol, the start of the 442nd Maryland General Assembly was like the end of last year's session, rearranged by unprecedented pandemic-inspired procedures and heightened levels of anxiety. Increased law enforcement presence is evident around the Maryland Capitol campus because of threats to state capitals since the seditious January 6 attack in Washington, D.C. Inside, robust health protections, more plexiglass, and sanitary protocols are in place. The changes require innovative advocacy and updated online ways to provide testimony to the House and to the Senate, which is essential to informing legislators about our concerns and ideas.
In that spirit of doing things differently, MSEA President Cheryl Bost and Strong Schools Maryland Deputy Director Shamoyia Gardiner conducted a socially distanced press conference—joined by photo stand-ins of real students, educators, and supporters—to make the case for recovering from the coronavirus pandemic by enacting the Blueprint for Maryland's Future.
Legislative Priorities Push for Education, Equity, Justice
Relief from the coronavirus pandemic and the injustices it has exacerbated are the focus of MSEA's advocacy this session. First and foremost we are fighting to override Gov. Hogan's veto of the Blueprint for Maryland's Future. The veto override could come up for a vote as early as February 8, the date the override was special ordered to on the first day of session. A veto override will launch a decade of programs that address longstanding inequities that disproportionately affect students living in areas of concentrated poverty. The pandemic has laid bare the desperate need to create strong schools in every neighborhood by providing additional support to struggling learners, hiring more educators and increasing their pay, expanding access to career and technical education, and delivering a more prosperous future for Maryland. Overriding the governor's veto of the Blueprint will also restore the Built to Learn Act, a $2.2 billion investment in school construction. That means repairs can begin on crumbling and unhealthy schools, and desperately needed local jobs and economic opportunities can be generated through these infrastructure projects.
Funding necessary for the Blueprint's first several years is in hand from revenue sources that were dedicated to it, thanks to prudent planning by legislators. Unfortunately, the governor's ill-conceived vetoes last year stalled some revenue-generating legislation that would also have benefited education. We will advocate for those veto overrides, or the reintroduction of the legislation worth millions of dollars.
At a January 14 press conference, Hogan continued to blithely disparage legislators for addressing years of inequities and underfunding through their work on the Blueprint while conjuring up false fiscal repercussions from an override. Hogan also tipped his hand on his impending budget, claiming that he "would be holding harmless all the jurisdictions." We will see exactly what that means when his budget is released sometime next week.
The imperative to recover from the pandemic drives the Blueprint, our budget advocacy, and MSEA's overall legislative priorities for 2021.
Aid for Hard-Hit Families and Schools
Senate President Bill Ferguson and House Speaker Adrienne Jones said Wednesday as session began that they are committed to passing legislation that will offer real relief and remediation from the pandemic. They had not seen the $1 billion RELIEF Act that Gov. Hogan intends to submit, which reportedly uses some of the state's Rainy Day Fund and money from cuts he made last year for tax breaks and direct payments to businesses, tax relief to the unemployed, and one-time payouts of $750/family and $450/individual to low-income taxpayers. The $900 billion federal coronavirus relief package Congress passed in December included direct payments to qualifying taxpayers and $57 billion in direct aid for K-12 education, $1.2 billion of it for Maryland. It directed no money to state and local governments. Schools may use the federal money to address learning loss, improve school facilities and infrastructure to reduce risk of coronavirus transmission, and to buy education technology. On Thursday night, President-elect Biden announced his plans for a further $1.9 trillion relief package, which would include $130 billion to help school buildings reopen safely and sustainably.
Enrollment Decrease Still Threatens Education Funding
MSEA is lobbying to head off underfunding our schools by millions of dollars that will occur if Hogan's budget is based on the student enrollment count from September 30, 2020, We know that count was artificially low because of the pandemic, and numbers are sure to bounce back next year. Funding FY22 based on the 2020 count will only make the recovery for our schools and students harder. We will advocate for the budget to make schools whole in FY22, not later.
NEWS AND NOTES
MSDE's Search for New State Superintendent Open to Public Comment
Educators have an opportunity to participate in the search by the Maryland State Department of Education (MSDE) for the next state school superintendent. The State Board of Education (SBOE) controversially bumped up Superintendent Karen Salmon salary $40,000 to stay on a year beyond her scheduled retirement in June 2020. A survey about the next superintendent is open, and educators should make sure their voice is included. The monthly virtual SBOE meetings have agendas posted and allow public comment.
Vaccine Distribution Moves in Fits and Starts
With news of the presence of the more contagious UK variant of the novel coronavirus in the state, it is clear that emerging safely from the pandemic will rely on the success of the vaccination program to inoculate as many people as possible. "When the time comes, get vaccinated!" said surgeon and Howard University President Dr. Wayne Frederick, who was a guest on MSEA's January 13 episode of Educate at 8 on Facebook. MSEA advocates for vaccination as a critical part of the safe framework to safely and sustainably reopening schools to in-person instruction.
Although some educators have accessed vaccines already—and all educators have been moved up to Phase 1B to be eligible for vaccination sooner than originally planned—indications are that it could be some time before many educators can roll up their sleeves. While there isn't enough vaccine yet for all who want it, Gov. Hogan said Phase 1B will open January 18. Phase 1B includes educators, people in assisted living and other congregate settings, child-care workers, people responsible for the continuity of government, and people 75 and older. The latest vaccination updates and vaccine appointment options are available on the state website. We've compiled more about what we know relative to educators here.
New Faces, New Places in General Assembly
The first day of the General Assembly saw several new faces and committee assignments. Prince George's Delegate Michael Jackson (D-27) was sworn in to fill the senate seat left vacant by Senate President Emeritus Mike Miller, who resigned recently for health reasons. In District 9A, representing Carroll and Howard counties, Reid Novotny (R) was appointed to fill the vacancy of Warren Miller.