The 2020 MSEA Convention will be held on October 16-17. While the convention is typically held in Ocean City, this year, due to public health concerns, the convention will be held virtually. Click here for more information on that decision. This year's convention will look different, be conducted a bit differently, and we will definitely miss being together in person. But what makes the convention so special—the common purpose that motivates us, the collective vision that we craft together, and the fun that we have—will be on full display this year as well.
Quarterly updates on New Business Items (NBIs) will be posted on this page.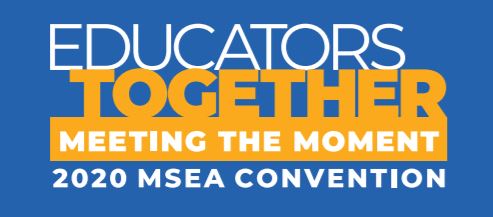 What Is a Representative Assembly?
If you have ever wondered exactly what it is that delegates do, then click here for a quick overview.
Professional Development Workshops
New this year: pre-registration! Convention workshops will be held entirely online this year on Friday, October 16. Pre-registration is required and workshops are for MSEA members only. To pre-register, click on the workshops descriptions link below and then follow the unique registration link for each workshop you would like to join.
For credit, consult with your local certification/staff development/human relations department. To receive a MSEA Certificate of Attendance, participants must attend the workshop they officially registered for, log into Zoom within the first five minutes of the presentation, and stay for its entirety.
This year's workshop themes are:
Building an Instructional Toolkit
Digital Learning
Personal Growth and Empowerment
Racial and Social Justice in Our Schools
School Counselors
Self-Care and Trauma Aware Classrooms
Bylaw Amendments
In accordance with the MSEA Bylaws, linked here are MSEA Proposed Bylaw Amendments #1 and #2 for the 2020 MSEA Convention. Please be aware that the proposed bylaw amendments were properly received and reviewed by the MSEA Bylaws and Rules Committee. If you have any questions, please do not hesitate to contact the MSEA Bylaws and Rules Committee Staff Liaison Damon Felton.
If you are interested in submitting a bylaw amendment for the 2021 Convention, please use this blank form and this sample bylaw amendment for reference.
For Delegates
Delegates may submit amendments to RA business at this link, and may submit amendments to the budget at this link.
Pension Trustee Candidate Endorsement
Persons interested in receiving the endorsement of MSEA as candidates for the active member trustee to the State Retirement and Pension Systems Board representing the Teachers' Retirement and Pension Systems are asked to submit the application form found at this link. Delegates will vote on this endorsement at the 2020 MSEA RA.
Featured Speakers
National Education Association President

Becky Pringle

NEA president Becky Pringle is a fierce social justice warrior, defender of educator rights, an unrelenting advocate for all students and communities of color, and a valued and respected voice in the education arena. A middle school science teacher with 31 years of classroom experience, Becky is singularly focused on using her intellect, passion, and purpose to unite the members of the largest labor union with the entire nation, and using that collective power to fulfill the promise of public education.

Maryland Senate President

Bill Ferguson

Senator Ferguson was elected to the Maryland State Senate in 2010 to represent Maryland's 46th Legislative District. He first served on the Education, Health and Environmental Affairs Committee before moving to the Budget and Taxation Committee, where he became Vice-Chair of the committee and Chair of the Education, Business, and Administration subcommittee. In January 2020, his colleagues unanimously elected him to serve as President of the Maryland Senate, making him the second youngest Senate President in Maryland history.